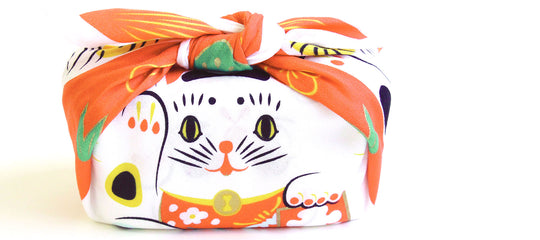 We would like to present cats' furoshiki on this new letter!
Japanese people have loved cats from ancient time.
Maneki neko (beckoning cat) could bring you good luck.
It is said that Maneki neko gives you a luck with money when it raises its right hand, and invites clients with its left hand.
How about adding a fortune cat to your daily life?
Well, cats are found on the Choju jinbutsu giga (鳥獣人物戯画) furoshiki as well. It's so adorable to see the cat wearing a formal hat, isn't it?

* Chouj jinbutsu giga is a national treasure picture scroll preserved in Kyoto.