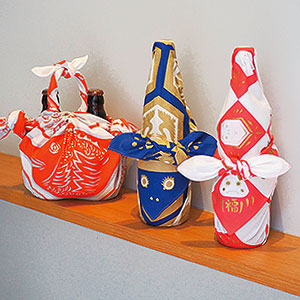 First of all, we'd like to thank you for keeping your eye on our furoshiki in 2020.

We have lots of things to announce.
Please let us announce you that there will be an increase in our pricing to take effect on January 1st, 2021 (JST).
During the past year MUSUBI has seen ever increasing costs for raw materials, manufacturing, and transportation.

Please find the details of the new prices below:
Furoshiki Patchin ¥2,700
Furoshiki Patchin mini ¥2,200
68 Rayon Chilimen Koyomi ¥2,000
45 Silk Chirimen No.6 (Medium weight) ¥4,500
68 Silk Chirimen No.9 (Medium weight) ¥8,000
45 Silk Chirimen No.5 (Light weight) ¥3,500
68 Silk Chirimen No.7 (Light weight) ¥7,000
68 Silk Chirimen Yuzen Dyeing No.7 (Light weight) ¥10,000
We thank you for support and continued business.
Secondly, our new furoshiki "70 Fuku COCHAE series" has just been launched.
Each pattern has meanings which invites happiness.
How about gifting fuku cochae wishing someone's happiness?
As well as that, it would be very nice to encourage yourself.
COCHAE
Fun with knot, fun with unfolding
Fun with wrapping, fun-looking
wrapping up, rolling down, Happiness is coming up!
Fuku COCHAE is a popular series represents good fortune which was created by collaborating with a design team
"COCHAE"
COCHAE design team created the paper cutout. It was made by hand.
The shape came out a little roughly and it's really something.
COCHAE series has a other designs! They are very eye-catching.
Changing gears, we were interviewed by TV TOKYO and talked about how furoshiki has been developed.
TV TOKYO TOKYO KOUSATEN
(テレビ東京「東京交差点」)
It tells how furoshiki has developed from ancient times to the present day.
Long long time ago, furoshiki was born in the world and still alive in Japan.
A little while ago, it was mostly used by elder people, but now younger generation has started to get interested in furoshiki raising awareness of the importance of SDGs. Furoshiki is getting acknowledged by a wide range of age groups.
How will furoshiki develop in the future?
Check more details about
furoshiki Hisotry
.
https://www.musubi-furoshiki.com/pages/a-history-of-furoshiki?_pos=1&_sid=bd98d6c78&_ss=r
New Year's Holiday
We are closing from the 30th of December, 2020 to the 3rd of January 2021.
Thank you for your understanding.
We wish you a happy new year!